DOLL TALK'S GLAMOUR GIRLS & STARLETTS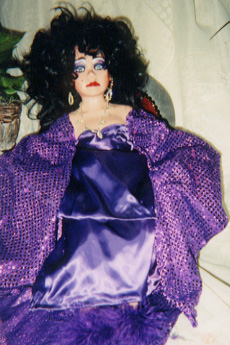 LIZZIE has A LOT of class! But she's cool enough, and knows enough to do and think what she pleases. She's high glamour in hot purple satin & sequins, with rhinestone necklace and earrings. Today, she relaxes with purple maribou on her manicured feet. Her eyes, of course, are starlett violet! She's only $212.00.
MARIE BASSETIERE

Appears to smolder, but is very sweet and dimure. She owns her own restaurant in the French Quarter, but she'd love to be adopted for $212.00. Marie's superbly stunning in burgundy and gold brocade with matching boa - they compliment her bordeau colored human hair!