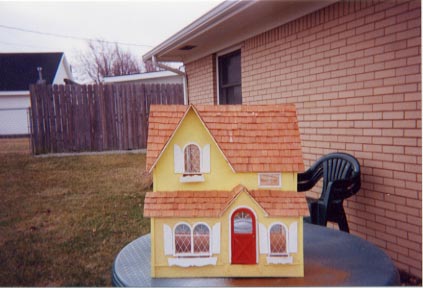 I "acquired" this ancient version of the Brookfield (notice the front is in reverse), and decided to try my hand at renovation. It was dirty and musty, full of dead critters and their eggs; had a thin coat of Gatorade Yellow Paint on it, and many shingles were/are missing from the roof. The windows all had curtain rods, but were hung crooked and uneven. Okay, no problem ...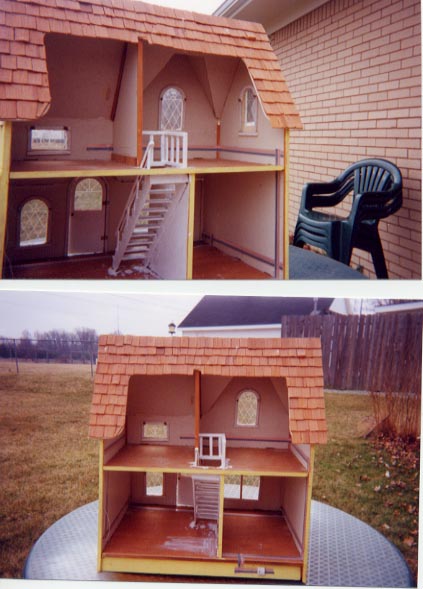 I photographed the original interior so that I could see where I had placed my tape wiring. That was a challenge; the original builder had glued the house so well, we couldn't slide the tape between the walls. In a few places, we spliced round wire into the tape ... what do I know???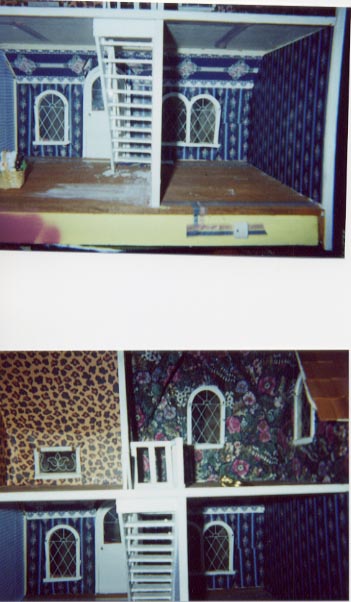 The NEWLY PAPERED interior is another story. Of course, I hung the striped wallpaper crooked downstairs, and then I ran out of it; ordered more to finish the living room (the smaller of the two downstairs rooms); the kitchen is papered w/scrapbook paper in pale blue checks. Believe me, when this is all over, it WILL tie in together!
Upstairs frightens my DH! The (safari) leopard print bathroom will sport a black contemporary porcelain tub, sink & commode.
I covered the bedroom walls with a green print fabric w/matching comforter and bedskirt I made for the mahogany bed. I ran into some problems around the top of the stairs (which were already installed), so I will have to remove part of it and replace it. Tried covering it up ... but you know ... that won't work!