Doll Talk's Miniatures by Stacey Torres
1/4" Minis | 1/2" Minis | A.J.'s Bar | CHRISTMAS ROOMBOX 2001 | Miniature Dolls by Stacey T | WHEN I AM AN OLD WOMAN I SHALL WEAR PURPLE | BROOKFIELD PHASE II | STACEY TORRES, Doll Artist and Miniature Maniac | MY GIFT BAGS and VIGNETTES | The Coventry Cottage Renovation | Favorite Links | Contact Me

PROGRESS PHOTOS & UPDATES ON THE BROOKFIELD COTTAGE

My first attempt at landscaping. I used flex-turf - the kind that will stretch over stuff, and plain old silk/dried flowers from the floral departments cut up. The sidewalk is white Skid-Text w/fabric paint pavers. I'm building a pond using a seashell as a base, but that might be too much - then again - this is my fantasy house. Anything goes on this ongoing project!

I gave my Brookfield a few coats of Cottage Rose paint and freshened up the white trim on windows, the red door, etc. I also removed and replaced the crooked flower boxes, and filled them with yellow, lilac and pink silk blossoms.
SAFARI BATH SPA
The bath has leopard print scrapbook paper on walls, as well as animal print felt for the carpet, black porcelain corner tub, toilet and sink built into a black wooden hutch w/huge mirror and built-in shelves. There's a working floor lamp in the bathroom covered w/metallic animal print. A gold lion head hoop earring serves as a towel rack on side of sink. Ivory terry bath sheets are rolled inside of an animal print hatbox on floor. I also have small safari print lace (cut from a ponytail scrunchy) at the window over the toilet. The tiebacks are African mask buttons. On the walls are resin safari animal magnets, and gold safari charms in gold.

A Tiffany swag lamp hangs over a wooden teacart that holds some china plates & tea set. The table & chair is "bargain". The wall rack is white wire wicker, with my pink depression glass pitcher and glasses. I used dollar store shelves to make utility racks over the stove and sink.
Currently, the only inhabitants are three dogs. The brown one in the middle was made by me.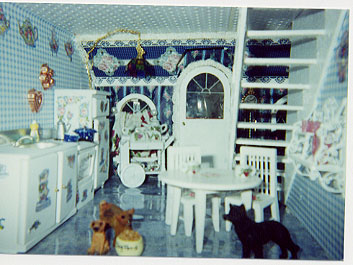 The bedroom is very cramped. It has a mahogany dresser w/tilted mirror that is actually a music box w/matching chateau bed. They were a set, and the bed was broken, so I got it CHEAP! I dressed the bed in contrasting green prints (dust ruffle/fitted sheet (glued onto mattress of sponge) and comforter and pillow sham. There's little room for anything else in there. The curtains will come down (antique handkerchief), since I think they crowd the room further. A gold cherub charm is above the bed, as well as antique ivory/crystal earrings surrounding the window. A framed print of a bride and groom are on the wall by the stairwell.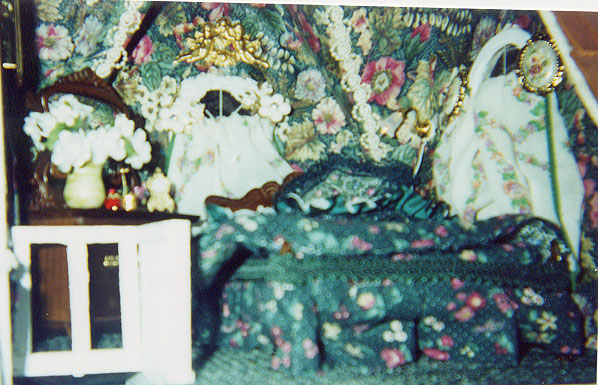 Can't tell by these photos, but I "made" fire in the fireplace with amber foil candy wrappers (i.e., Werther's, etc.) I messed up w/the tin ceiling by having to piece it, and it shows! Small table in living room is a dollar store wire wicker topped w/a craft mirror. The contemporary lamp has a crushed ice look to it. Birdcage is still empty. I have a picture of a Black Madonna on the inside wall - can't see by this photo. The gold pendulum clock near the front door is actually a dangle earring (1980's) made to look like a clock - Yes, I wore them!